News
ISTELive 23 Recap: Empowering Learning with Technology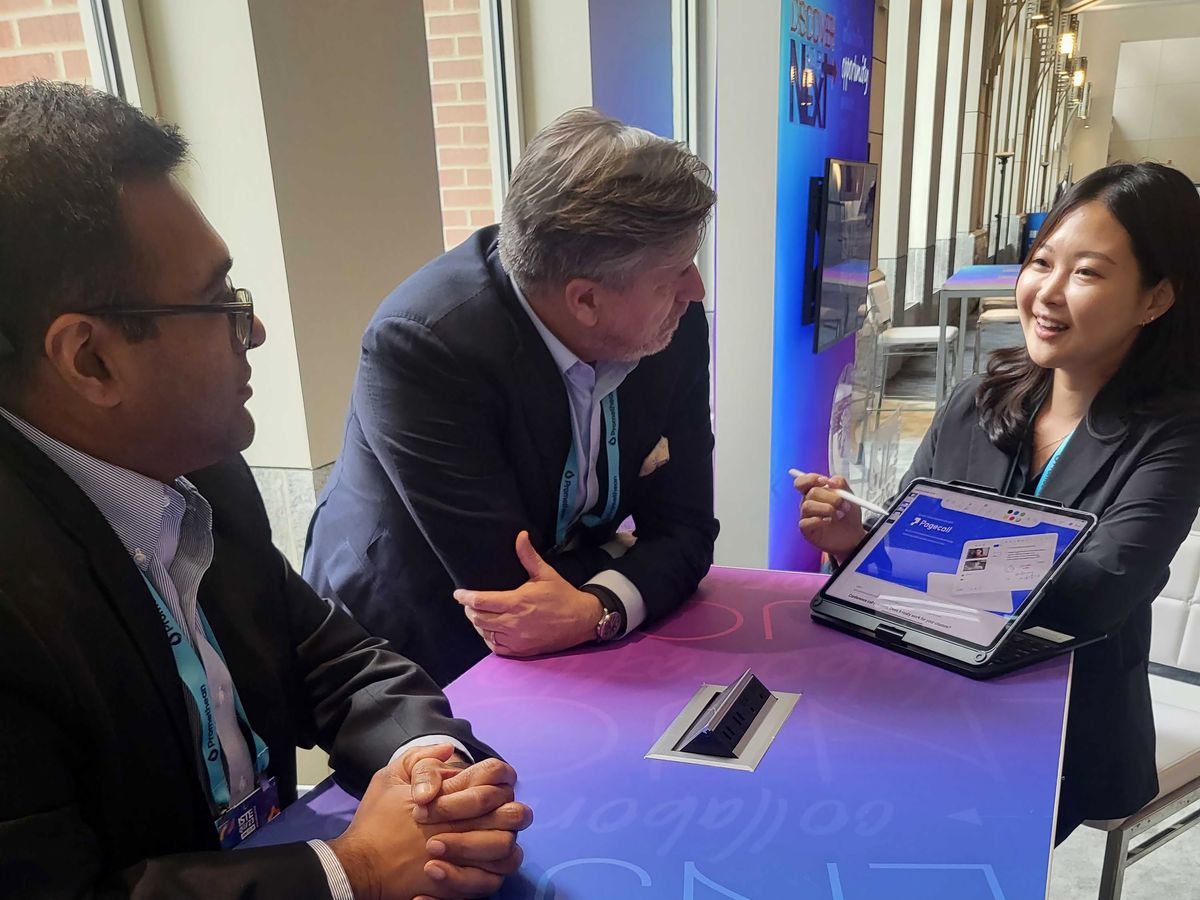 Pagecall recently had the privilege of participating in ISTE (International Society for Technology in Education), an annual conference that brings together educators, technologists, and industry leaders worldwide. It was a thrill to join 16,000+ people in Philadelphia, the city of brotherly love, to eat, breathe, and sleep education technology for a week. Here's a breakdown of ISTELive 23 through the lens of Pagecall, a highly-innovative digital company that develops advanced technology for the education industry. We'll delve into ISTE's history, new additions at the event, and the emerging industry trends we saw at the conference.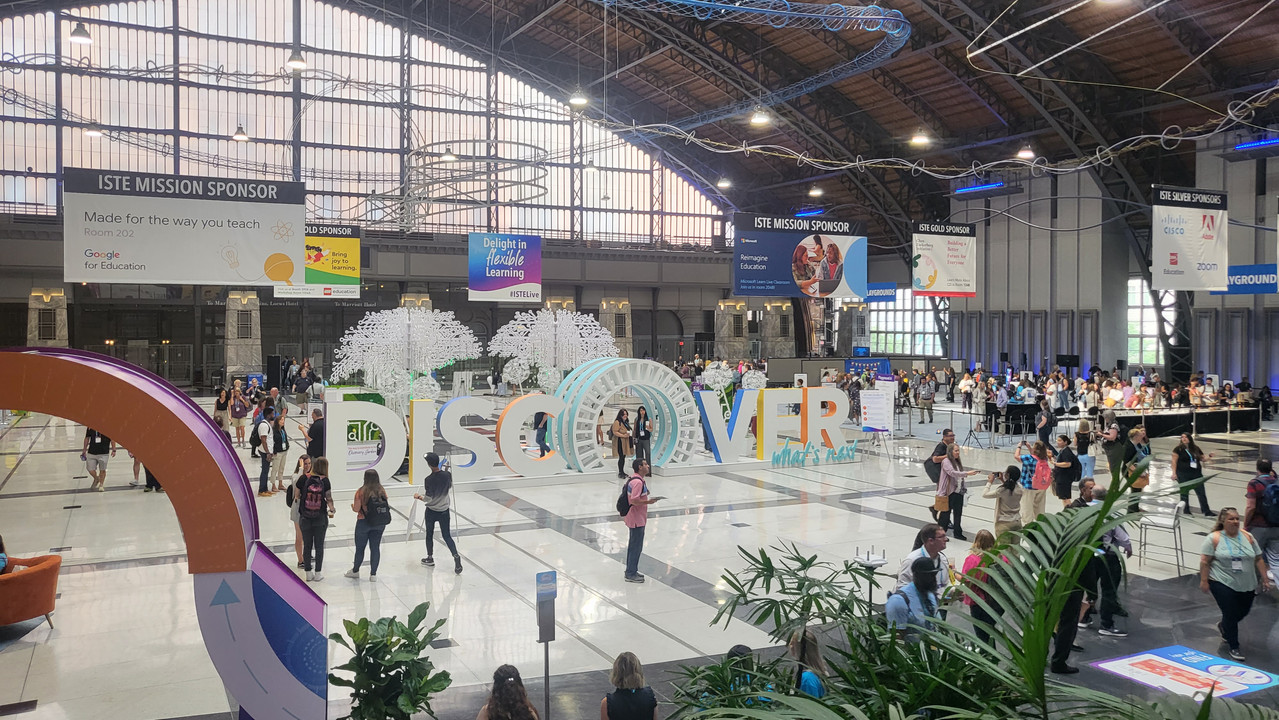 A Brief History of ISTE: Pioneering the Integration of Technology in Education
ISTE has played a significant role in shaping the education technology landscape. The conference traces back to 1979 as the National Educational Computing Conference (NECC). This gathering of forward-thinking educators aims to harness the potential of technology to revolutionize education. Over the years, NECC has transformed and became ISTE in 2010, aligning with its mission to advance excellence in learning and teaching through innovative technology. Over a decade later, the spirit thrives at the annual ISTELive events.
Demographics of ISTE Attendees: A Diverse Community of Education Innovators
ISTE's attendees represent a diverse range of professionals from the education and technology sectors. Educators, administrators, instructional designers, technology coordinators, and policymakers from around the globe gather at the conference. The international participation of individuals from 70 and more countries fosters rich discussions, cross-cultural exchange, and the sharing of best practices from diverse educational contexts. What is striking is that more than 90% of the participants attend to decide on or recommend tech purchases. That speaks to how well the conference serves the purpose of connecting EdTech solutions to users.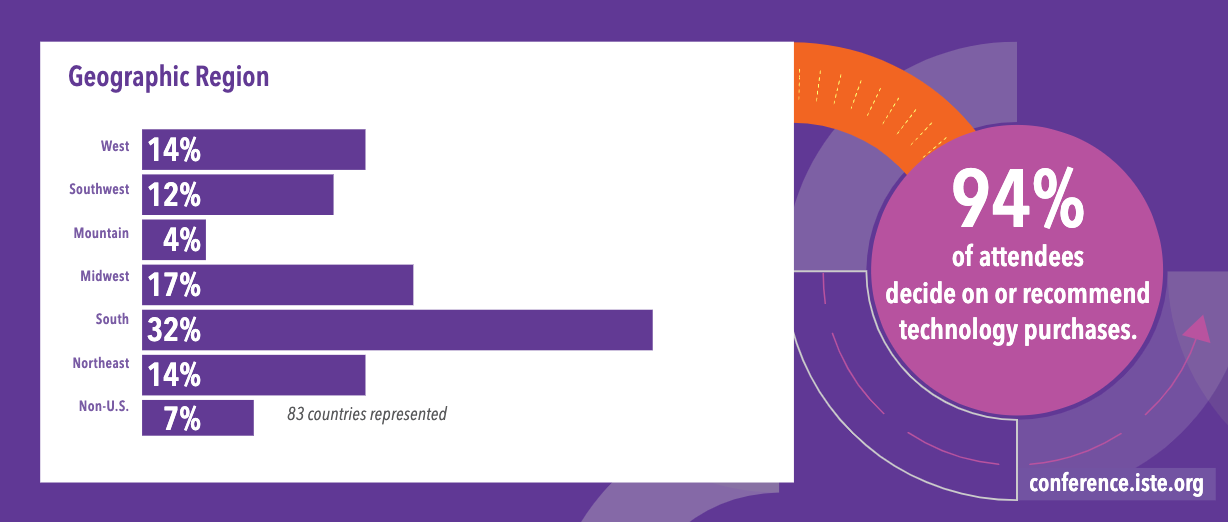 Collaboration and Networking: Nurturing Connections for Educational Transformation
Thanks to the inclusive environment that allowed educators and technologists to come together, Pagecall could present its state-of-the-art tool for real-time audio, video, and whiteboard interactions, and actively participate in fostering collaboration and networking among attendees. There was no shortage of workshops, panel discussions, and interactive sessions throughout the event; participants gained practical insights into leveraging technology for improved teaching and learning outcomes.
Pagecall was honored to participate in our first ISTE conference as an EdTech Solutions Network member. The EdTech Solutions Network Summit provides a unique platform for EdTech solution companies to gather and engage in meaningful networking opportunities before the official conference begins. Amidst the discussions and presentations on the latest advancements in education technology, we had the chance to connect over the mouthwatering flavors of the regional specialty, the Philly cheesesteak, which set the tone for a relaxed and friendly atmosphere for EdTech professionals to network, exchange ideas, and build relationships. In addition to a touch of local charm, it was memorable to see the importance of forging partnerships that can drive innovation in the education technology space.
ISTE Seal: Launch of the new Seal Program
ISTE also launched its new ISTE Seal program at ESN Summit this year. According to ISTE, the Seal (formerly known as the Seal of Alignment) "showcases products that have been tested for quality and usability," and these products "feature a strong user interface and support teaching practices backed by research and learning sciences." Eleven companies had already received the Seal at the launch. The new Seal now evaluates Curriculm and Assessment Tools, which are new additions to Student, Educator, and Assessment Resources categories from the legacy program.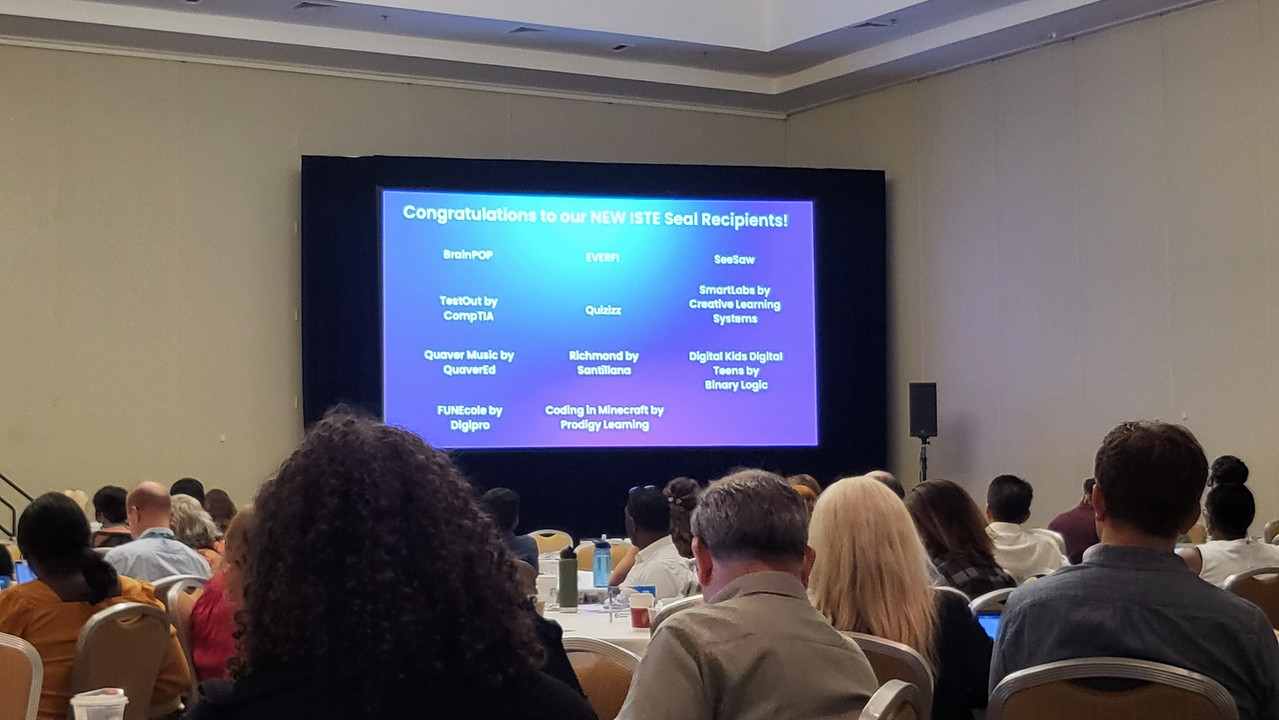 Trends in Education: AI, chatGPT, but That's Not All
Artificial Intelligence (AI) was definitely the big theme. Undoubtedly, everyone was curious to see how EdTech companies have embraced chatGPT and the latest AI technology into their suite of learning tools. AI-powered tools are expected to revolutionize the education space by automating administrative tasks, providing personalized learning experiences, and offering intelligent feedback to students, among other possibilities.
AI Powered Tools
The excitement and concerns were palpable; ChatGPT, as an AI language model, presents both advantages and challenges for the education sector. On the positive side, ChatGPT can provide instant responses to student queries as a virtual tutor available 24/7. It can facilitate interactive and personalized learning experiences, helping students with problem-solving, explanations, and clarifications.
 Examples
Khan Academy showcased its AI tutor, Khanmigo. Seeing how the AI tutor could guide any student response - sometimes irrelevant and off-the-topic - to focused and pertinent learning prompts was impressive. It could operate in multiple languages, which could be helpful to ELL students or international learning environments.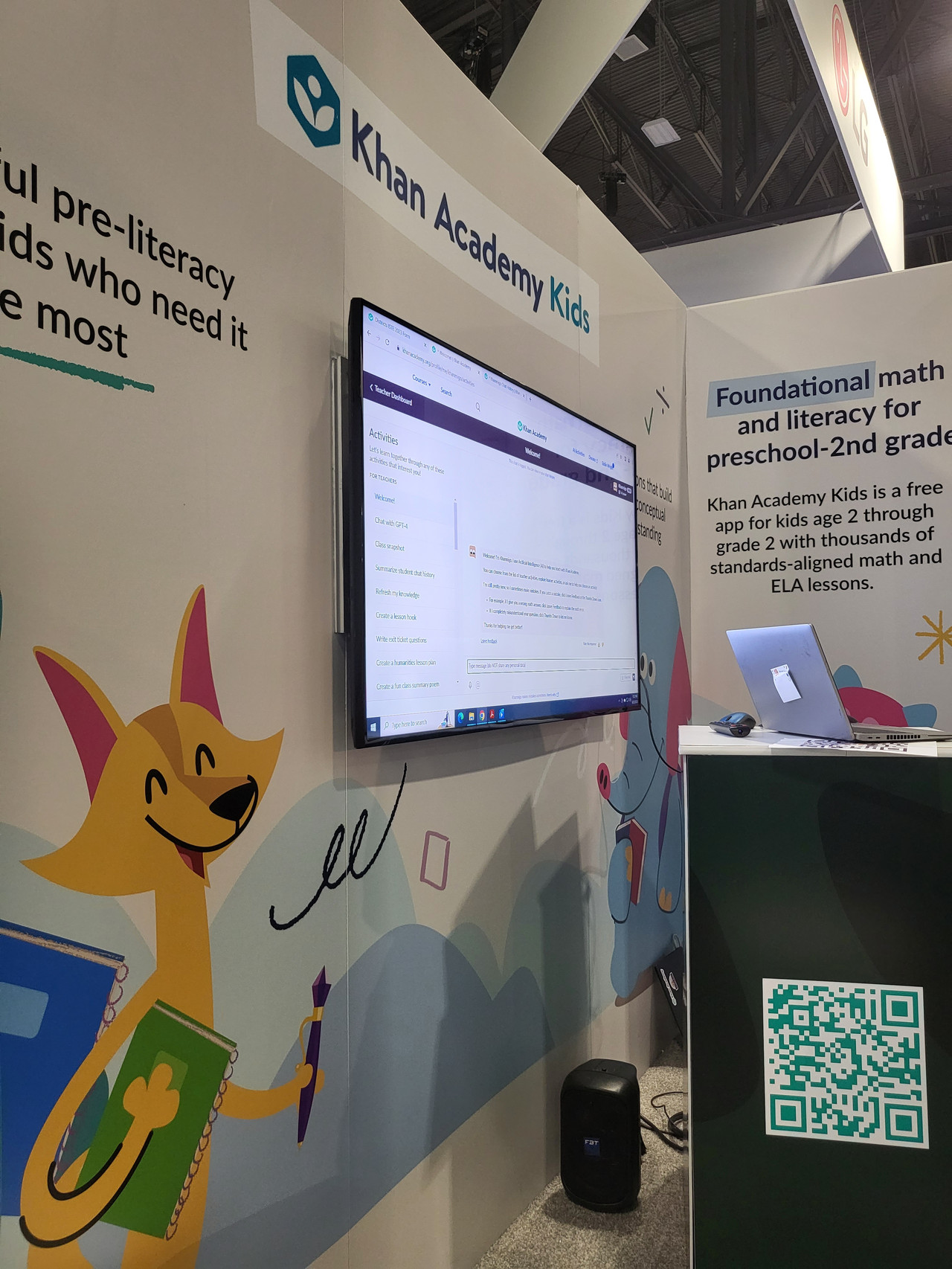 Canva was one such solutions company that covered the safety of delivering AI tools in classrooms. Their policies were guided by the principles of always putting safety first, ensuring adults understand the product before placing the tool in students' hands, giving districts the choice to opt out of anything they weren't ready for, and empowering teachers with agency and information.

 Challenges
Some challenges include misinformation and a lack of contextual understanding. ChatGPT generates responses based on patterns and data, so it may not always provide accurate or comprehensive information. This was the concern for many teachers attending the conference and was clearly an area to be addressed by EdTech companies building their solutions on this technology.
 Personalized and Online Learning Trends
Apart from AI, some other trends shaping the future of education include personalized learning and online learning. Personalized learning allows educators to cater to individual student needs and preferences, fostering engagement, and improving learning outcomes. Online learning, which proliferated during Covid, is here to stay, with benefits like providing flexible access to education, breaking down geographical barriers, and facilitating self-paced learning. It was exciting to see that Pagecall's mission to provide seamless, real-time communication technology to online classes using personalized features for education aligns with the latest EdTech trends.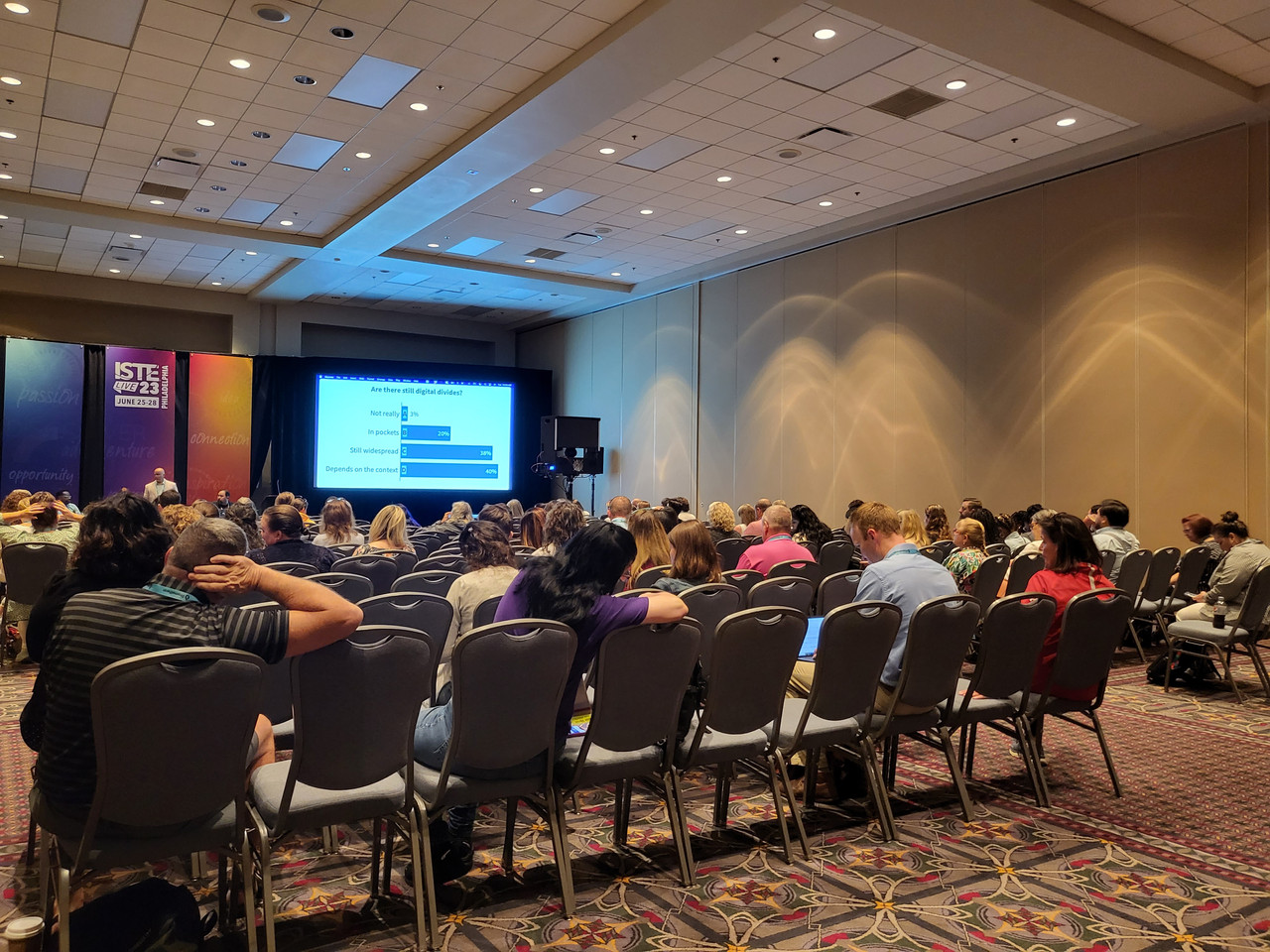 That's a wrap. See you at ISTELive 2024!
Pagecall's first year at ISTE was marked by a transformative journey, where we witnessed the convergence of educators, technologists, and industry leaders passionate about education technology. It was also a testament to how Pagecall's commitment to empowering education through our innovative communication solutions, personalized learning features, and data-driven insights aligns with ISTE's vision. We look forward to deepening our engagement with ISTE to continue driving the integration of technology into teaching and learning practices, empowering educators, and enriching the educational experiences of students worldwide.
Thanks to all the friends and connections made in 2023. To anyone who missed us at the conference, check us out on our website or reach out to us directly!
---
About Pagecall
Pagecall is a state-of-the-art tool for real-time audio, video, and whiteboard interactions facilitating interactive and seamless online communication. We're transforming the tutoring industry, one lesson at a time.